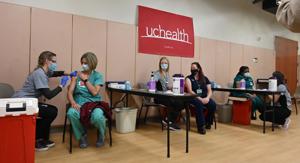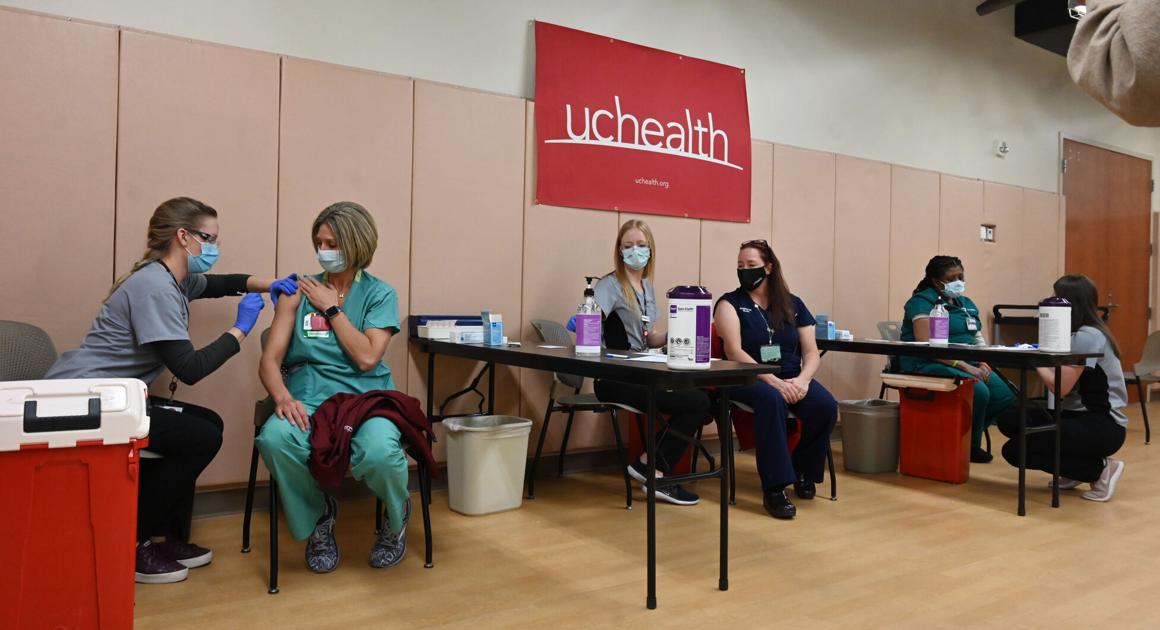 Sherri Harper is honored to have spent a day under blankets with aching joints, chills and fever, courtesy of her second dose of the COVID 19 vaccine.
"Nine hours of me being on a couch in a blanket is nothing compared to my patients who I've seen go for weeks at a time struggling for breath," said Harper, an X-Ray technician at Boulder Memorial Hospital. "I'm happy to be on the front lines."
Many health care workers like Harper who have had their second dose of the vaccine are exchanging stories of uncomfortable side effects. For most, the first dose produced minimal outcomes, such as sore arms; but the second round has given people a myriad of ailments including body aches, fever, nausea and vomiting.
"It's not pleasant for most people but it's not going to kill them either," said Michelle Barron, Senior Director of Infection Prevention at University of Colorado Health.
"With all vaccines, you look at the risks and the benefits. The risk of getting COVID is still pretty high and the benefit of getting this vaccine is that it will probably prevent you from getting COVID, or if you do get the virus, it will be significantly milder."
Barron says it takes a week after the second shot for the immunization to take effect, and one in 20 will still get COVID, so she recommends that people who receive the vaccine should continue wearing masks, social distancing and keeping social gatherings at a minimum.
The Centers for Disease Control advises to expect flu-like symptoms with the second dose of both the Pfizer and Moderna vaccines, adding these are "normal signs that your body is building protection." The CDC lists several irritations from the shot, including pain and swelling of the arm along with fever, chills, fatigue and headache.
Few severe reactions
As of Jan. 24, 545 health care providers in Colorado had administered more than 445,000 doses of the vaccine. Of those, 364,819 were first doses and 80,181 second doses, according to data from the Colorado Department of Public Health and Environment.
Barron herself had a mild reaction to the first COVID shot and then spent a day of discomfort after the second dose.
"I had a little fatigue and I had some muscle aches. A mild headache. I took some Tylenol," she said. "I was actually working. I finished my rounds and went to bed early."
According to the CDC's Morbidity and Mortality Weekly Report, 2.5 out of every 1 million people who had gotten the first dose of the Moderna vaccine had a severe allergic reaction compared to 11 out of 1 million people having serious allergic reactions from their first dose of the Pfizer vaccine.
It's too early to determine the rate of serious side effects for the second dose outside of the clinical trials because they have not been published yet, but the CDC has a tracking system monitoring people's reactions to the vaccine called the Vaccine Safety Data Link.
Barron says that the reason the numbers for allergic reactions are higher for Pfizer than they are for Moderna is because Pfizer was offered first and therefore there is more data available from patients who received it.
"It's a numbers game," she said. "The health benefits from both vaccines are comparable and outweigh any uncomfortable side effects."
Around one out of every 1 million people who get the flu vaccine have a severe allergic reaction. Those severe side effects can range from being unable to breathe or having a swollen tongue or lips.
"This is not the flu"
Harper feels there's little excuse for people to skip the double-dose vaccine.
"This is not the flu," she said. "I tell everyone I know to sign up for the vaccine. COVID has been so horrible. Harper says the worst cases started last April, "I would see someone come in on a Friday night talking to me while I'm doing their chest X-rays. And then by Sunday, they're on a ventilator in the ICU and by the next weekend they are gone."
She says there was a reprieve this summer, but then in the fall, and after Thanksgiving, the number of deadly cases increased.
For Harper, the COVID-19 vaccine is the first hope she's had in a tragic year.
"I lost a 90-year-old patient last week who fought and fought to stay off of the ventilator," she said.
Her husband told her not to call her patients by their first names so that she doesn't get too close. She called the man by his first name anyway.
"I don't want to lose my humanity during this… . I don't want to turn myself off to the point that I don't mourn for them," Harper said.
The state is still on track to vaccinate its 70-and-older population by the end of February. On Monday, the CDPHE launched a staffed hotline for anyone with questions about the vaccine. At this time it has limited hours, but should be up 24/7 by February at 1-877-CO-VAX-CO (1-877-268-2926).