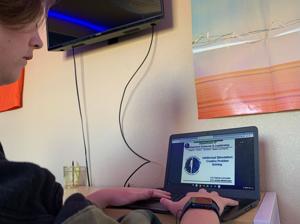 Widefield High School's Evan Burgess dreams of attending the Air Force Academy and one day becoming a forensic investigator.
The 15-year-old freshman is getting a taste of what the academy is like while learning leadership skills from cadets. He is one of 10 high school students from America and Europe selected to participate in the Military Child Education Coalition's Frances Hesselbein student leadership program, which is being held virtually this year due to the coronavirus.
"I'm getting top of the line leadership skills from the military," Burgess said. "This is awesome. It is an amazing experience being able to work with the cadets."
Burgess has already learned about transactional and transformational leadership, but his favorite takeaway two days into the nine-day program was the personality assessment he took.
"We learned the pros and cons about the leader we already are," Burgess said. "I learned that I perceive myself as diligent and hard-working, but I can also be perceived as narrow-headed to other people."
Cadet First Class Adelaide Smallidge, a senior from upstate New York, administered the personality assessment and cautioned that it was only a snapshot.
She and other cadets — all behavior science majors — built an organizational training program to teach leadership as part of their capstone project and are now teaching it to 10 high school students.
"I'm someone who is really fascinated about leadership and has worked hard over the past 3½ years to get better at it," Smallidge said. "I enjoy helping other people enjoy things that I've learned and that I find valuable. I like to give back to these high school kids who are really excited to take on this program."
The students selected to participate were from high schools with Military Child Education Coalition Student 2 Student programs. Since the Student 2 Student program started in 2006, it has grown to more than 500 elementary, middle and high schools.
Greg Morris, Widefield counselor and Student 2 Student sponsor, revived the program at the high school last year. It now has about 30 members.
The program helps new military-connected students feel welcome.
"When kids come here, brand new, they don't know anybody; our kids help make that transition easier," Morris said. "They meet them and greet them and show them to their classes, sit with them at lunch and introduce them to other high school students."
Morris has led the Student 2 Student program at other schools and has seen how it benefits students and makes them better leaders. He said he is excited that Burgess can gain leadership experience as a freshman.
"He has a mature voice and a mature demeanor," Morris said.
Lt. Col. Daniel Watola, an Air Force Academy professor who overseas the cadets working with the high school students, understands the partnership is a win-win.
"I hope the cadets really see another dimension of leadership education … I also hope the cadets learn how hard it is to do training right," he said. "For the students, I really hope they get a sense for what good leadership looks like so they have the knowledge and skills they need to actually make a change in their high schools."