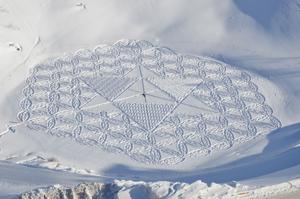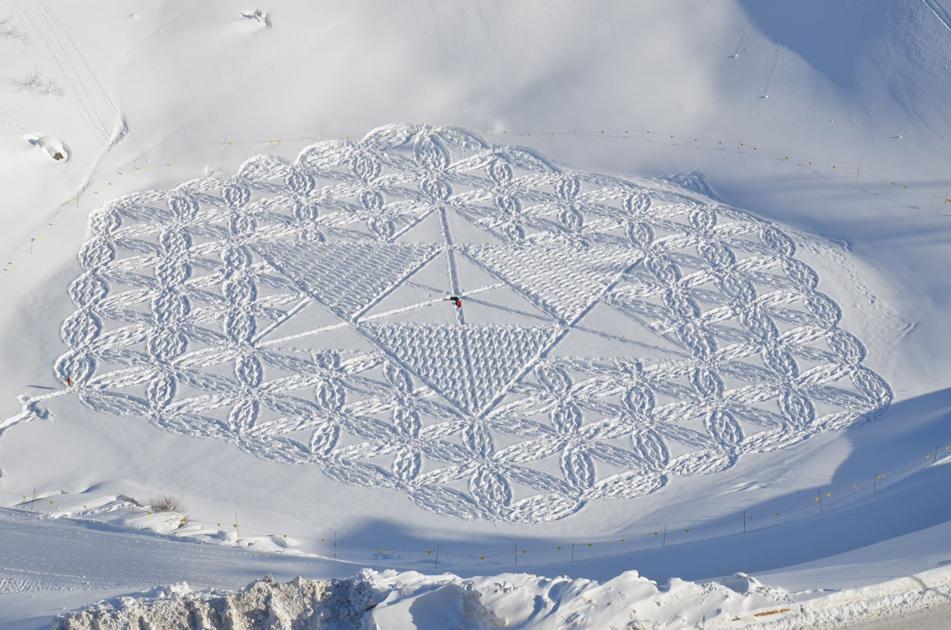 Your average person might see a field of cold snow and shuffle off to find the nearest fire and pot of hot chocolate.
Simon Beck straps on his snowshoes and burrows his way into the belly of the frigid beast.
The snowy-haired, ruddy-cheeked, 61-year-old resident of Somerset in the United Kingdom is allowed to brag about his later in life achievement: He is the world's first snow artist, after all. Pristine patches of the white stuff become soccer field-sized, spectacular geometrical works of art under his creative eye and the use of a few tools, among them a prismatic compass, snowshoes and a shovel.
"It's definitely an art form," said Beck by phone from his ski apartment near Switzerland. "I was very surprised at the fact there was nobody else making snow art. There are a few people who have started doing it."
Beck will be in Silverthorne on Thursday through Jan. 16 to create an ephemeral art exhibit of sorts. His first piece is planned for the Silverthorne Performing Arts Center lawn on Thursday. Friday's piece will be in Maryland Creek Park, where he'll also make a guest appearance at the free Silverthorne SnowBALL during the town's First Friday event.
Depending on weather conditions and assistance from volunteers, Beck hopes to complete at least one snow drawing per day in six locations while he's in the mountain town.
With decades of experience in professional cartography (map-making) and orienteering, a competitive outdoor race that involves mapping and mountaineering, Beck was well-versed in Mother Nature's natural canvases before he started marking them up.
"I just started having a bit of fun one day," he said. "I thought, let's do something that's not too much hard work, that's not really severe exercise. I had a look at a snow-covered frozen lake and drew a pattern on it with my hiking boots. I had no idea how it would look until I started actually doing it."
After quitting orienteering in 2008, he wanted to find something to replace the sport's vigorous physicality, and decided to focus on his new artistic hobby, which provided a different sort of exertion.
"It's quite hard physical exercise, but not like running where you get tired out after two hours," said Beck. "It takes a day to get tired out after making snow drawings."
Nowadays, people around the world invite him to make his snowy artworks inspired by such natural creations as snowflakes, geometric figures and spiraled cactus pears near their cities and towns. He's comfortable calling himself an artist, an apt description seeing as his snow drawings now number 325. He completes about 30 per year, mostly in Europe, though he's done about 60 outside of Europe. Silverthorne will be home to his first Colorado exhibit.
Beck isn't sure what sort of designs he'll produce in the mountain town, and besides, it's a waste of time to plan too much in advance. You never know what the weather will be like, or the condition of the snow, though in his perfect world, it would be light, powdery and about 6 inches deep with a firm surface underneath.
His first Colorado piece will be the size of a soccer field, though he's made creations as large as 10 soccer fields. It took 22 hours. A design usually lasts until the next snowfall, though one dared to stay put for eight weeks.
The process begins with an hour or two of careful measuring. Sometimes Beck places an anchor and ties himself to it so he can walk and create a perfect circle. Other times he relies on his judgment, which means the design might not be as accurate, but there won't be snowshoe tracks in and out of the circle.
Following that, it's hours of pace counting, stepping and stamping his design into the snow with his own two feet, then carefully shading some parts with a shovel. His map-making skills come in handy.
"It's using the same skills, but working in reverse," he said. "Making a map, you start with something on the ground. You've got to make a reproduction of it on a small scale on a piece of paper. If you're making a snow drawing, you start with something you've drawn on a piece of paper and reproduce it on the ground on a much bigger scale."
Contact the writer: 636-0270